An Interview With A Guy Who Spent An Unbelievable Amount Of Time, Money, And Energy To Track Down Lane Meyer's Camaro From Better Off Dead.
Wednesday July 11th 2007, 12:44 pm
Filed under:
interviews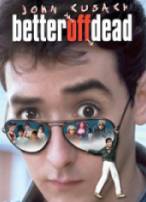 Like a lot of people, Jeff Dutton saw Better Off Dead back in the 80s. He saw John Cusack hit rock bottom, meet a French foreign exchange student who taught him to believe in himself, and then inexplicably win a race down the K-12 on one ski. More importantly though, Jeff Dutton saw Lane Meyer's '67 Camaro. Years later, in September of 2001, Dutton decided he wanted to own it. BetterOffDeadCamaro.com was born.
Hypocritical Ross: Do you remember the first time you saw Better Off Dead?
Jeff Dutton: My first car was a rusty 1969 Camaro that I bought in 1980. I did a lot of work on it, and that car got me hooked on early Camaros. About six years after I bought that 1969 Camaro, my college roommate rented Better Off Dead on video. When I saw the black 1967 Camaro in that film, I remember thinking to myself, "Wow. I like the 67's just as much as the 69's. I'll have to get one of those someday." Aside from the car, there are many other elements in Better Off Dead that resonated in a big way with me, such as skiing, hating high school, losing a girlfriend, and cringing whenever Mom pulled something out of the oven.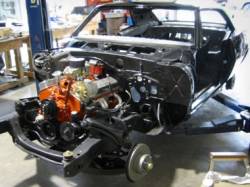 HR: What led up to your decision to actually try to acquire and rebuild the Camaro?
JD: Near the end of 2001, the resources (money and garage space) for a 1967 Camaro of my own finally became available. My first thought was to build a car very similar to the one in Better Off Dead, because I had never seen a 1967 Camaro that I liked better than that car. After watching the film a few times to refresh my memory, I started to wonder where the actual car used in the movie might be. Without a plan in mind, I began searching the internet in hopes of finding clues. All that I could find online were some unanswered questions like, "Does anyone know where that car is these days?" The lack of information on the car made me all the more curious, and I decided to take the next step of contacting people who had worked on the film. After I got a few real clues, I became totally hooked on the search. That was a strange corner to turn, because I had no way of knowing if the car could ever be found. And even if it could be located, an opportunity to buy it seemed very unlikely. Near the start of my search, I imagined the car to be in perfect condition – just the way it looked in the film. As I had conversations with the gentleman who owned the car during the making of Better Off Dead, I realized that the movie history of the car had not been passed on to subsequent owners… the car might look very different after all those years. Restoring the car to its movie configuration seemed like the obvious thing to do if it could be found.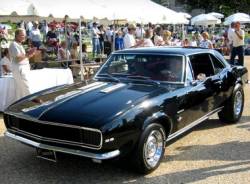 HR: Had you ever gone through this with any other movie cars?
JD: I've made a fairly big search to find the orange Ford Falcon from Better Off Dead – the one driven by the Cosell brothers. I'm not having much luck with that one, and it may have been dismantled or crushed by now. Because it was a four-door sedan, it had less chance of survival than the Camaro. I'd like to own a General Lee from the original TV series if the right chance comes along, but I'm not losing any sleep over it.
HR: I have to ask – how much money did all of this cost you?
JD: I've been trying to keep the price of the unrestored car confidential, but it was right in line with the value for a "regular" 1967 Camaro with those options back in 2002. The search to find the car was right around $2500, and the restoration total went a little past 55K. I know the restoration number sounds pretty stupid, but that's actually on the cheap side for a restoration as thorough as this car got.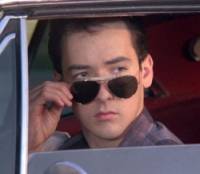 HR: What is it about rebuilding a movie car that makes it worthwhile to you?
JD: As movie cars go, the Better Off Dead Camaro isn't very famous. The movie definitely has a cult following, but the Camaro is not the kind of car that gets recognized when you fill it up with gas. When I display the car at a show, I put up a sign that explains its movie history. Occasionally, someone's eyes light up, and they begin quoting lines from the film and asking questions. It's rewarding to bring back a happy memory like that. It's the same happy memory that I have.
HR: Some people would probably say that you're – I don't know – maybe a bit off to go through all of that trouble. What would you say to those people?
JD: On my website, I added a way for people to send emails to me. Some people are downright offended by how much time and money I've plowed into this effort. That's okay, because there are many other people who write in to say how much they appreciate my efforts. Everyone has their perspective, and they're all valid.
HR: If you could do it all over again, would you? Would you say it was worth all the trouble?
JD: It was definitely worth the trouble, and I would do it again. However, I can't think of another vehicle – or anything for that matter – that would be interesting enough for me to pursue at that level. There's just something about that Camaro.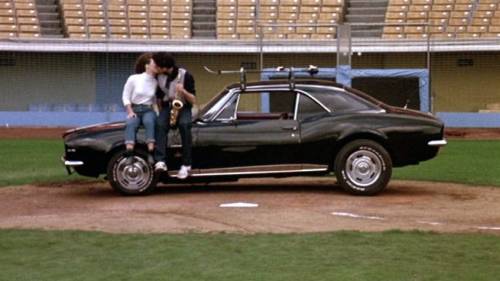 You can read more about Jeff and his epic quest to own the Better Off Dead Camaro at BetterOffDeadCamaro.com.