It Came From Carrot Top's Prop Closet.
PROP
Miss America's Crown
WHY IT'S FUNNY
Tara Elizabeth Conner, Miss USA 2006, was involved in a scandal where she was caught drinking underage and using cocaine. Carrot Top, assuming that the audience is aware of this scandal, implies that the Miss America crown should be made out of alcoholic beverages and, hence, makes a joke of a topical nature.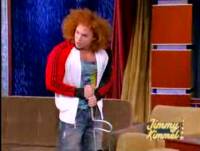 PROP
Viagra Putter
WHY IT'S FUNNY
Viagra (Sildenafil Citrate) is a drug used to treat male erectile dysfunction. Carrot Top has created a golf club with a large indentation in its shaft to accommodate the erections that the drug causes. While Viagra jokes may be dated, erection jokes are timeless, although why someone would take Viagra while playing a round of golf remains unknown.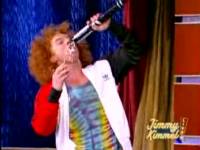 PROP
Barry Bonds' Baseball Bat
WHY IT'S FUNNY
Barry Bonds is trying to achieve the all-time home run record, but has also been accused of using performance-enhancing drugs. By putting these two aspects of Bonds' career together in the form of a baseball bat filled with steroids, Carrot Top has created a joke.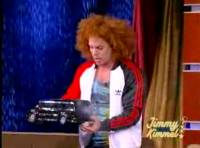 PROP
Willy Nelson's Tour Bus
WHY IT'S FUNNY
On September 18, 2006, a Louisiana police search of his tour bus uncovered 1.5 pounds of marijuana and 0.2 pounds of psychedelic mushrooms. Carrot Top's model of Nelson's bus produces copious amounts of smoke that trail out of the back of the bus, which reminds people of the incident in a comical fashion.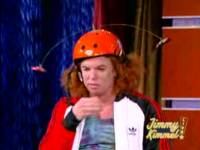 PROP
A Hat That Allows You To Watch Nascar When Your Cable Goes Out
WHY IT'S FUNNY
Nascar is regarded by many as a dull and repetitious sport. With this in mind, Carrot Top has created a hat that features toy cars spinning around the wearer's head. It is implied that this could recreate the experience of watching a Nascar race – a funny notion to say the least.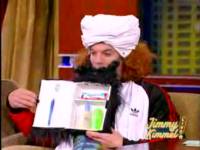 PROP
A Hat & Beard That Will Make You Look Like A Terrorist So That You Can Get A Seat To Yourself On An Airplane.
WHY IT'S FUNNY
After terrorists hijacked two planes and crashed them into the World Trade Center on September 11, 2001, people have been very nervous about flying on airplanes. Particularly so around Arab people. This hat & beard will make you look like an Arab, so people will not want to sit near you on the plane for fear that you will martyr yourself and kill them in the process. As an added bonus, the beard conceals a medicine cabinet for some reason.