Notes On Arnold Schwarzenegger's Junior.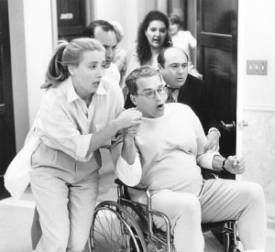 11:28pm
First reason to like Junior:
– pee joke within the first 2 minutes.
——
11:35pm
– Arnold is a doctor who studies monkey pregnancies. This is just part of the plot. I'm not making a joke here.
——
11:39pm
– I wonder if it is hard to deliver lines of dialogue with conviction in a movie about Arnold Schwarzenegger getting pregnant.
——
11:41pm
– I'm not sure if I can watch this entire movie.
——
11:47pm
– Do all scientists have monkeys? No matter what? Because I don't understand why the new scientist who took Schwarzenegger's old lab after he lost his funding for the pregnancy drug would (or could) just keep his old monkeys.
——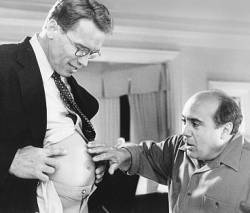 11:50pm
– Even if this new drug is really spectacular, how it could make Arnold pregnant? Is the fetus growing in his intestines? And if not, where?
——
11:53pm
– Another pee joke.
——
11:55pm
– Arnold just said "My nipples are very sensitive." This movie is weird.
——
11:58pm
– For all the typing that I'm doing right now jotting down these notes, somebody did a lot more typing when they wrote the script for this movie. That blows my mind.
——
12:03am
– Am I seriously watching a movie where the current governor of California's out-of-wack hormones make him cry during a sad movie because he's pregnant?
——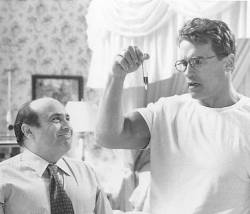 12:07am
– Did I mention that I'm not sure if I can watch this entire movie?
——
12:19am
– Quick plot recap: Arnold and his partner (Danny DeVito) are scientists who lose their research funding for a new pregnancy drug. To secure funding, they decide to impregnate Arnold and have him take the drug to collect data. Arnold is supposed to stop taking the medicine before the end of his first trimester, but being pregnant makes him feel more vibrant and alive than he ever had before so he decides to keep taking the medicine. He decides to have his baby. In other words, Junior is actually a movie about a scientist who goes completely batshit insane.
——
12:24am
– Arnold's German word for "boner": "Schteifen."
——
12:27am
– I wonder where the fat suit Arnold wore in this movie is now?
——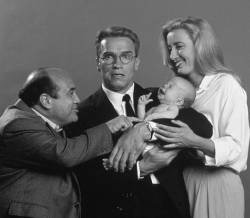 12:30am
– Arnold forces Danny DeVito to take it back after he says that Arnold should have stopped taking the medicine when he was supposed to (in other words, when he says that Arnold should have aborted the fetus). Maybe the religious right could use this movie to spread their message? Or… gasp… maybe it IS the religious right spreading their message!
——
12:42am
– Arnold says "My body, my choice." I guess it's not the religious right. After he says it, he throws the evil research director through a rack full of beakers.
——
12:46am
– I bet this movie is really unpopular in the GLBT community.
——
1:04am
– When the baby is born, it looks pretty real. All covered in that baby mucus stuff. Did they slather it in vaseline or something?
——-
1:11am
– Last joke in the movie: maybe Danny DeVito should have a baby!
——-
1:14am
– I want the last 109 minutes of my life back.