An Interview With Al Cabino: Sneaker Activist.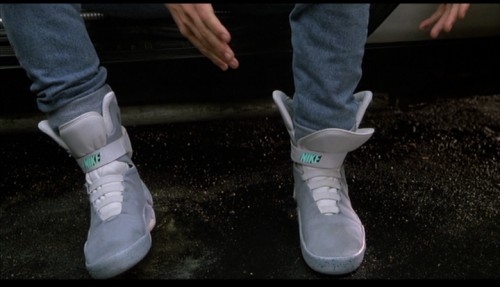 Last week, I stumbled across an online petition dedicated to convincing Nike to release the shoes that Marty McFly wore in Back to the Future II. When I checked it then, there were over 16,000 signatures. As I type this now, a few days later, there are over 17,000. The people have spoken. But if it weren't for one man bringing all them all together, their voices may have never been heard. That man, that great uniter, is none other than Al Cabino, a self-proclaimed "Internationally Renowned Sneakerographer."
Hypocritical Ross: So what's your deal?
Al Cabino: I'm a Capricorn. I love sneakers, rock music, hockey… I'm a twenty-something born and raised in Montreal, Canada, working on a book about sneaker culture.
HR: Have you always been into sneakers?
AC: Yes, I'm a sneaker fan!
HR: How many pairs do you own personally?
AC: A respectable number.
HR: What's the deal with the Back to the Future II shoes? What makes them so special?
AC: Everyone dreams of walking in a movie star's shoes. The McFlys are the Holy Grail of movie sneakers. The McFlys were created just for the film, they were never worn beyond the silver screen, and I've always been fascinated by them. There's a sneaker legend that says that in 2015, Nike will come out with them. But I'm not going to wait 9 years. There are a lot of people who don't want to wait 9 years.
HR: And that's where the petition comes in?
AC: It's the world's first and only international sneaker petition. So far, there are over 15,000 signatures from more than 50 countries. I am applying activism to sneaker culture. There's old-style activism with people like Naomi Klein (also born in Montreal). This is new-style activism.
HR: What do you do for a living?
AC: I work.
HR: Do you work for Nike? Is this all some sort of viral marketing campaign?
AC: Good question—The Washington Post wanted to know if I was a Nike spy.
HR: You have to admit—it does kind of smack of viral marketing.
AC: This isn't Sneakergate, dude.
HR: I'm just trying to understand your position.
AC: I'm not one-dimensional. I love sneakers, I love hockey, I love activism… I'd love to work with UNICEF on a sneaker-related campaign, maybe create a special sneaker where the proceeds from the sale would go to UNICEF. If starting the world's first and only international sneaker petition has turned me into an international sneaker celebrity, well, I'd also love to work with organizations like UNICEF. One of my childhood heroes is David Suzuki—he's a Canadian icon. Google him.
HR: Wouldn't a Nike-sponsored UNICEF campaign be a bit like mugging someone and then giving them bus fare so they can get home?
AC: I didn't say it would be Nike-sponsored… what do you propose for my UNICEF sneaker campaign? I'm open to your ideas… I am a sneaker fan! Are you gonna write that I'm a Nike spy?
HR: How do you reconcile the differences between the tradition of activism you are coming out of and the consumer culture you are simultaneously embracing? Some might see that as a paradox. What would you say to those people that say Nike and activism can't go together?
AC: Traditional activists are consumers too. As stated earlier, there's old-style activism… this is new-style activism. Old-style isn't new-style, they are different. Sounds like you can't accept that. You've got liberals, you've got conservatives. If you get it, you get it. If you don't, that's fine too. I respect everyone.
HR: Some old-style activists would probably be hesitant to call what you are doing "activism," though.
AC: The term "sneaker activism" is accurate. This is consumerism as an active, not passive, process. I was named a 2006 Noisemaker by the Montreal Mirror (Montreal's answer to the Village Voice), Montreal is one of the most activist cities in the world. If Montreal has embraced my new-style activism, I'm sure some Cubs fans might too. In Back to the Future Part II, the Cubs defeat Miami to win the 2015 World Series.
HR: So have you gotten any response from Nike regarding the petition? It seems ridiculous that they would ignore over 16,000 people.
AC: Right after I started the petition I was contacted by someone at Nike. He said "Al, this is big. You are on the Nike Inc global intranet. Usually the only thing on there is very important stuff for the employees." And I was on there. A few days in, they were already talking about it. Nike is the world's biggest sneaker company. All good things take time, but everyone knows about my international sneaker campaign. I'm still collecting signatures.
HR: Why are you doing this? What's in it for you?
AC: I want a pair of the McFlys.
HR: How much would you be willing to pay for the McFlys if they were commercially released?
AC: First, let's get them released.
HR: Are there any other sneakers you want to see commercially available?
AC: I want to work with the Montreal Canadiens hockey club to release some special edition sneakers that would combine my love for the Montreal Canadiens and my love for sneakers. That would be the greatest honor ever.
HR: What's with the chocolate Nikes? Where did that come from and what's the response been like?
AC: I'm very inspired by movies, inspired by Willy Wonka… a HUGE underground success. MTV covered it. MTV turned me into an international sneaker celebrity.
HR: If you were trapped in an elevator with Phil Knight, what would you say to him?
AC: I'm trying to organize a special meeting with Phil Knight. We will talk sneakers over some good Japanese tea.
HR: Do you know any sweet shoe trivia?
AC: Michael Jordan rocked Converse. The first Air Jordan was banned by the NBA. Michael Jordan wore them anyway, amassing fines—up to $5,000 a game.
One response to "An Interview With Al Cabino: Sneaker Activist."