Being Married To The Sea Just Got That Much Easier.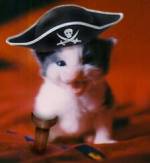 With pirate attacks down by nearly a third, there's never been a better time to sail in international waters with a huge sack of diamonds. This raises more questions than it answers, though. Here's a breakdown:
QUESTIONS IT ANSWERS
1. Are pirate attacks up or down since last year?
QUESTIONS IT RAISES
1. Pirates? Really?!
2. That is so fucking cool. Did you seriously say pirates?!
3. Who are these people issuing reports with statistical data on real life pirates?
4. How can I work for them?
5. Pirates! (not really a question, but still.)