Things That Suck: The Lack Of Mystique Surrounding Freemasonry.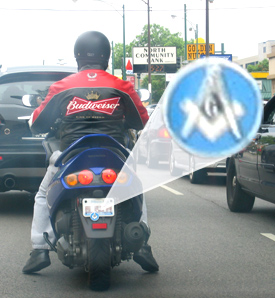 There was a time in the not-so-distant past when Freemasonry was something special, something that instilled a sense of wonderment, maybe even a little bit of fear. Freemasonry was lumped in with a bevy of other shadowy organizations: The Illuminati, Skull & Bones… umm… The Shriners… mostly just The Illuminati and Skull & Bones, I guess. They met at night under ornate rotundas to flog one another with paddles and manipulate the global political landscape. They participated in ancient, moderately-homoerotic traditions while us outsiders could only guess what secrets lay entombed within their candlelit meeting places. They forced the U.S. Mint to put all kinds of trippy stuff on the back of a dollar bill. Long story short, they were totally fucking sweet.
Fast forward to 2007. Freemasonry has a detailed wikipedia page and has been thoroughly exposed in the popular culture. The secret is out, Masons – how could it get any worse for you? Oh, I've got it – how about you let this douchebag in a Budweiser coat speeding around town on a crotch rocket join your ancient, secret society? Congratulations, guys – you somehow found a way to further tarnish the Freemason image. I'd really love to see you guys as shadowy & sinister, but let's face it – you haven't been either of those things for a long, long time. Maybe you've changed, or maybe I've just grown older & wiser, but either way the end result is the same – you guys have lost your mystique, and you know what? That sucks.