Things That Rule: Shitty Graffiti.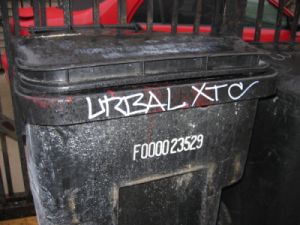 It's way rebel to deface public property and everything, but this guy isn't even trying. Urbal XTC? Did he think about this for even a SECOND before he started writing it on a garbage can in Logan Square? Here are a few things his "tag" bring to mind:
You know what's cooler than all three of those things? Intentional misspelling. You know what that means? The intentional misspelling in his name is the coolest thing about it. Yowza. Shitty graffiti rules. And by rules I mean sucks… I think. Something like that. Whatever.
(edit: In this post, I assumed Urbal XTC was a guy. Turns out it's a girl – here's her MySpace profile. I'm not sure if this counts if this counts as a victory for female graffiti writers or misogynists.)