Things That Suck: Weekly World News Is Over.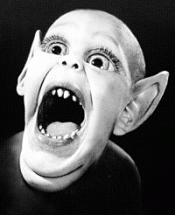 There's always been a place in my heart for Weekly World News. When it came to those less-reported stories, there just wasn't anywhere else to turn. Who broke Bat Boy? When space aliens met with Clinton, who had the gall to report on it? Forget the hip and would-be "radical" rags you find in the anarchist bookstores. For the real scoop, you needed to look no farther than your local grocery checkout line.
But now those days are over. Gone are the days of Bat Boy, Elvis sightings and the world's fattest baby. When Osama Bin Laden is found – in one of George Bush's myriad secret homosexual love dens – who is going to report it? Who is going to publish Ed Anger's latest screeds? NYT? WaPo? I think not, my friends. The Weekly World News is over, and you know what? That really sucks.
Well… kinda. I guess I haven't actually bought one in like six years.