Tax Time.
Saturday March 31st 2007, 2:33 pm
Filed under:
unicorns
Check out the last adjustment in the list.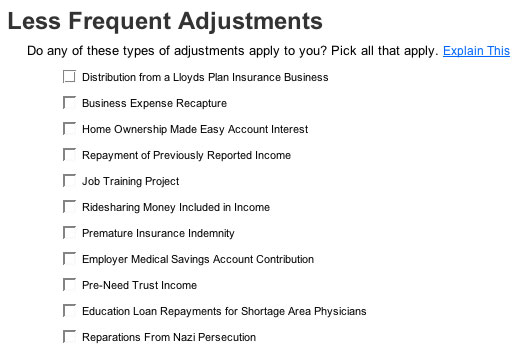 What if part of your income comes from persecuting people as a Nazi? Do you get a deduction for that? Do they charge you MORE taxes? What if you had Nazi business expenses in 2006? Any accountants out there?
(note: I have no category for nazis or taxes, and I'm sure as hell not creating one since I will hopefully never post anything about either of those topics ever again. As such, I have filed this under "unicorns.")
An Interview With An Actual, Real Life Wizard (Who Made Ten Unicorns).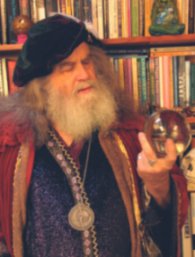 Back in the 1980s, the Ringling Bros. Barnum & Bailey Circus boasted a "real life" Unicorn on its list of attractions. The "Unicorn" was actually a goat named Lancelot, but fuck it—it only had one horn, or it looked that way at least, so it was close enough for most of the paying public. The guy who… well.. MADE Lancelot, I guess, is a guy named Oberon Zell-Ravenheart (no joke), founder of the Church of All Worlds. He and his wife, Morning Glory, made ten Unicorns in the 1980s in an attempt to save the world. This is all totally for real. Seriously.
Hypocritical Ross: So where did you get the idea to create Lancelot and start the Living Unicorn Project?
Oberon Zell-Ravenheart: Well, it started off around 1975 when [my wife] Morning Glory and I got this idea to write a book on the true stories and foundations behind mythical creatures. In the process of our research over the next few years, we came upon the long-lost secret of the Unicorn—that these were actual living animals that had been produced by closely-guarded secret means that were lost and rediscovered several times throughout history. And we learned how it had been done. At that point, we said, "We could do this!" So we gave up on the book, moved to a hippie homesteading community in the mountains of NorCalifia, and began the several-year project of breeding and raising living Unicorns. Lancelot was the first, born on Spring Equinox of 1980. In all, we produced ten of them over the next six years. We named most of them after Knights of the Round Table. Some we kept as our own pets, and others we boarded out. For several years (1980-'84), we toured every Renaissance Faire in North America, and were interviewed and written up in countless newspapers, magazines, radio & TV shows, and even a few books—including the Encyclopedia Britannica. Four of them we leased to Ringling Bros.Barnum & Bailey Circus for a 4-year exhibition tour, where they were the star attraction of the Greatest Show on Earth (1985-'89). The very last one died just over a year ago, at the age of 17.