A Eulogy For Saparmurat Niyazov, The Former Authoritarian President Of Turkmenistan Who I Had Never Heard Of Until About 10 O'Clock This Morning.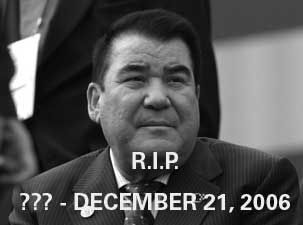 When I heard this morning that Saparmurat Niyazov had died of a heart attack, I couldn't believe what I was hearing. "Dead?" I thought to myself, "Saparmurat? Could this really be happening? And if so, who is he? I've never heard of him before."
Saparmurat always thought of Turkmenistan as one of his own children. Maybe as his only child – I'm not really sure if he had children. I think I remember something about that from the BBC, but I'm not sure about the exact details. He thought of Turkmenistan as a child, one way or another, and a child needs to be nurtured, and nurture he did from the very first day of his Presidency (which was a day some time within the last hundred years) to the day he died (which was yesterday, I think). The country will never be the same. Or maybe it will be. I'm not totally sure what's going to happen over there, or where "over there" is, exactly. I think it's pretty close to Russia.
The BBC report said that Saparmurat once banned hospitals. That was the kind of guy he was – always joking around, or attempting to ensure painful and drawn-out disease and death for his subjects. There was another thing they mentioned that he once banned, but I forget what it was. Their police force, maybe? Food? I can't remember, exactly. Whatever it was, it was CLASSIC Saparmurat. You should really google it and try to figure it out. It will provide you with a deeper understanding of who Saparmurat Niyazov really was, just like the deep understanding I momentarily possessed while listening to a radio report about his death earlier this morning.