E. Annie Proulx: Fancy Name, Big Baby.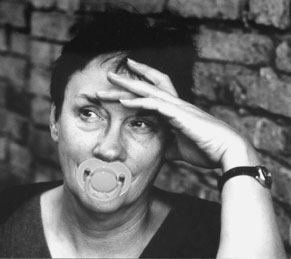 E. Annie Proulx, writer of the Pulitzer Prize-winning novel The Shipping News, has outed herself as a big fucking baby in Saturday's Guardian. Proulx wrote a short story that was later adapted by Larry McMurtry and Diana Ossana into a screeplay for some weird movie about gay cowboys, and she now feels that said gay cowboy movie was robbed of a well-deserved Oscar for Best Picture by some other movie called Crash. In a delightfully cheeky display of writerly wordplay, she refers to it as "Trash." Get it? Yeah, it's pretty good. What do you expect? She's a Pulitzer Prize winner.
Anyway, her printed missive smacks of sour grapes and a lumbering dinosaur of a writer fading into irrelevance with all the style and grace of a frozen dog turd. In it, she proceeds to trash everyone from Philip Seymour Hoffman to Three Six Mafia*, a ballsy move considering the Triple 6 are some of the craziest thugged out dirty south gangsters (read: the ONLY ones) to ever grace the red carpet. Her reasons for trashing Hoffman? Check it out:
"Hollywood loves mimicry, the conversion of a film actor into the spittin' image of a once-living celeb. But which takes more skill, acting a person who strolled the boulevard a few decades ago and who left behind tapes, film, photographs, voice recordings and friends with strong memories, or the construction of characters from imagination and a few cold words on the page? I don't know. The subject never comes up." 
Wah, wah. Seriously – has this woman ever even SEEN the Oscars? Does she really think the Oscar for Best Picture goes to the best movie? Where was she in
1997
? How about
2000
? Get a clue, babe. Use those tears to shine your Pulitzer Prize or something – you're embarassing yourself. 
* I would like to state as a matter of fact that Three Six Mafia, who just won an Oscar, also made this. Just sayin'.